PRESS RELEASES
The NLIPC will be starting a Newsletter and a new web site this month! Stay tuned for updates and please contact us at info@nlipc.ca for more information or to join our membership!
---

November is Falls Prevention Month. Join us at our launch on Tuesday November 6th 10:00 - 11:00 AM at Paul Reynolds Community Center 35 Carrick Drive, St. John's, NL.

#FallPrevention #StandUpToFalls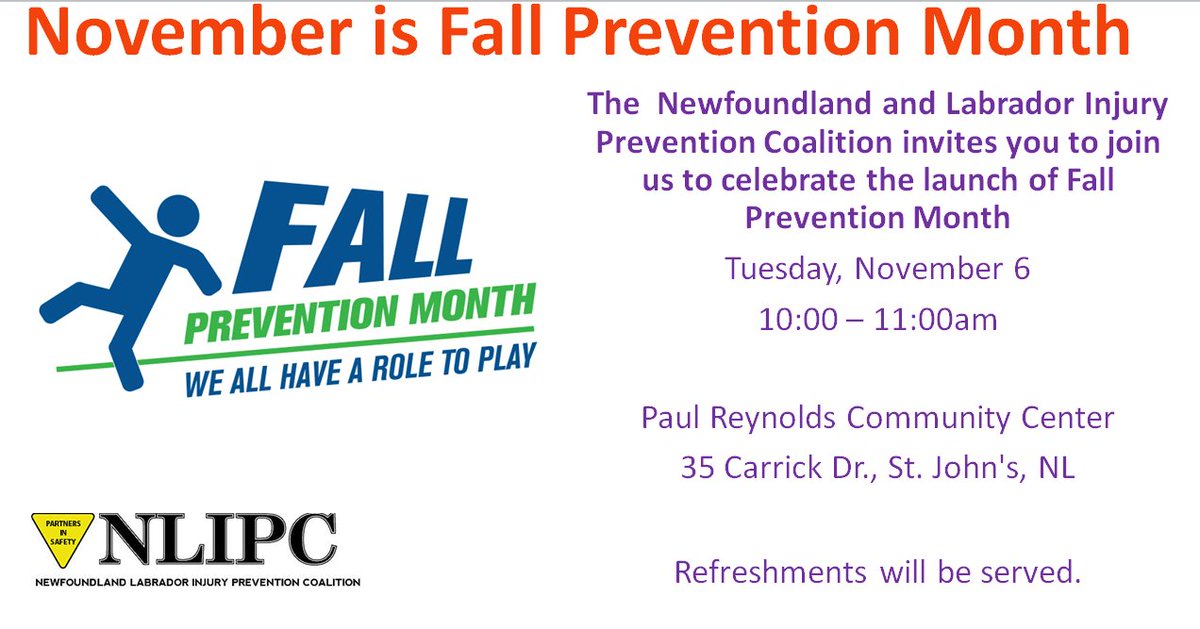 ---

NATIONAL TEEN DRIVER SAFETY WEEK - October 23 - 28, 2018

http://www.parachutecanada.org/programs/topic/C430

National Teen Driver Safety Week (NTDSW), is an awareness week designed to make the public aware of teen driver safety issues and encourage communities to be part of the solution. Parachute's goal is for Canadians to have a long life, lived to the fullest. NTDSW provides the tools to take this important messaging to the community. Our toolkit allows people to prioritize teen driver safety issues in their communities, engage people in the conversation about teen driver safety, and create change around this big issue.



---
The New Marijuana Legislation: Weeding Out our Safety Concerns:

Registration Form - https://docs.google.com/forms/d/e/1FAIpQLSebUHSVWsrCaFc7jQVQPFf5lIwghrCLZHUC4GEJOzA6-MSfDg/viewform


---

NL Injury Prevention Coalition, NL Public Health Association & Safety NL
Joint Position Paper on All-Terrain Vehicles & Snowmobiles and Safety.

#ATV #Snowmobile#nltraffic #offroad

PRESS RELEASE:


Stop Preventable Injuries on All-Terrain Vehicles and Motorized Snow Vehicles!
- - - NL Injury Prevention Coalition, NL Public Health Association & Safety NL Joint Position Paper on All-Terrain Vehicles & Snowmobiles and Safety
https://files.acrobat.com/a/preview/8c1e2257-f3a8-4854-9bff-d15b91c49d48
This is a Call to Action for the Government of Newfoundland and Labrador to update the existing Motorized Snow Vehicles and All-Terrain Vehicles legislation to improve safety and reduce injuries especially for our province's youth. Much has changed since the legislation was last amended in 2005: ATVs and snowmobiles are larger, faster and heavier, and as a result injuries are more significant. It takes a proactive effort to update the existing legislation to meet the current ATV and snowmobile environment and make our province safer. The partner organizations are recommending the following:
1. Legislation:
a) Legislate a minimum operator age of 16 years of age for snowmobiles.
b) Introduce mandatory helmet use for all off-road vehicles (including snowmobiles, side-by-sides).
c) Introduce mandatory driver training and licensing.
d) Update the definition of a 'vehicle' in the Motorized Snow Vehicle and All-Terrain Vehicle (MSV-ATV) Act and Regulations to include newer models of off-road vehicles (side-by-sides and youth-model ATVs).
e) Remove section 25.(a) MSV-ATV Act and Regulations.
2. Education and Awareness:
a) Educate the public about the risks associated with ATV and snowmobile use through promotional campaigns (when the Act is amended and another campaign one year later), promotion and offers of community safety programs for ATV and snowmobile use, and partnerships of RCMP, RNC and community or school groups to provide safety presentations in communities.
Contact: info@nlipc.ca
SHARE! SHARE! SHARE!


https://files.acrobat.com/a/preview/8c1e2257-f3a8-4854-9bff-d15b91c49d48


---